How did I ended up with a fuchsia fever when pink is one of my least favorite colors?
It all started last year with the ad campaign of Harajuku Lovers fragrance.
I am positive that I wouldn't like the thing they are selling, but the model really caught my eyes with her fuchsia on her nails, lips, face and even a bit on her eyelids. While the look might be too much for the day...I grew a fondness toward the color and git myself a convertible color in that shade, needless to say, love it!
Then , YSL hit me with the rouge volupte...
No, it doesn't have anything to do with Kate Moss(I don't like her or dislike her...I just don't care alright?) I actually saw the poster several times without any thought...but later someone on a beauty forum posted a lip swatch with many of the shades from this line, I absolutely love how the deep fuchsia look (the red one was a close second) and I became hooked.
Beside lips and cheeks, fuchsia also looks good on the eyes, check out a photo shoot from the December issue of Nylon magazine.
I like how her lips are lined too!
Fast forward to Feburary (or is it March...the one with Ed Westwick in it) issue of Teen Vogue.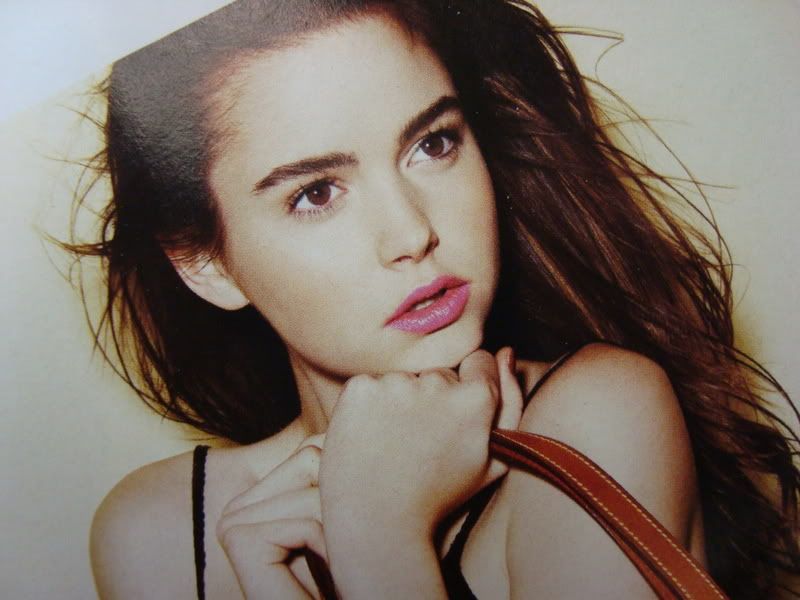 Beautiful Model rocking the beautiful color(It got washed out alright?I took a picture of the picture...) in a Dooney & Burke ad...Sorry, but actually I think most of their bags are pretty ugly...including the one in the picture.
According to
this blog post
, fuchsia is one of the hottest colors (or *the* hottest?) in the season , companies are featuring the shade and it's spotted everywhere, even in drugstore!
I think Alexis Bledel looks pretty no matter what she wears, but the deeper shade of fuchsia looks even prettier with her icy blue eyes...
Not really a favorite look but I feel like throwing in a Chinese girl just for the "minority representation." This is a very popular actress (never had the patient to watch those drama/soap) and, in my opinion, lousy singer ( If it was not for her face, I doubt she can make a living singing like that) Liu Yifei...At least this picture proves fuchsia being a strong color, unlike red, looks pretty good with strong eyes as well...
Of course, perfect for spring and summer, fuchsia is also popping out everywhere else, like Estee Lauder, MAC Hello Kitty, Lancome... Many drugstore brands came up with new collections featuring the color...To cure my disease, I've purchased a few (a butt load) of fuchsia products...And I will be reviewing them all this coming month and at the end I will put a overview of all of the products. Doesn't it sound so much fun?
So stay tuned if you like the color!