By now you should all know I just recently got a hang of eyeliner and began my adventure into the eye enhancing department. The tools are also part of the look, here are my handy gadgets.
I will start with the more budget friendly ones. (From left to right)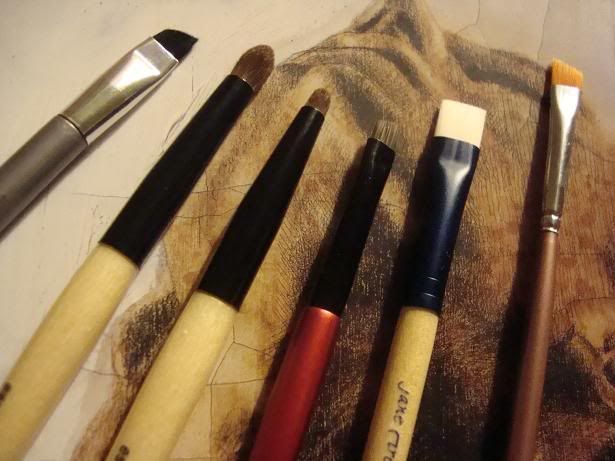 1.
Wet n Wild
slanted brush (came with the 4-dollar
cream eyeliner
) ,
-Synthetic and feels really easy to be kept clean.
-Very firm to the touch but doesn't poke my eyes.
- Create precise line with moderate width when used with a thick gel liner
-Can be used to create a very fine/natural line when used with runnier eyeliner such as
Stila
Smudge pot (I have the shimmery ones in Jade and Copper) and dampened
Stila
shadow.
2.
Essences of Beauty
crease brush, since my crease are so thin they are almost
nonexistent
, eyeliner=crease=shadow in may case. It's like a marker for powdered shadow, I can just use it with dark shadow and rim my whole eyes with it, well, I don't really feel like it most of the time since it does seem to be a bit scratch for the skin around my eyes.
3. See above, this is just a smaller version.
4.
Posh
angled brow brush. Oh my, this is my only posh brush with the
lacquered
surface intact! (The other brushes I have from Posh all cracked, smeared or just fell loose.)
Back to topic, I bought this entirely because of the novelty factor (this came with four interesting looking stencils, all of them turned out to be too thin for my brows...) but since I decided to leave my brows alone, this brush became a part of my eyeliner army.
It's more sturdy than the Wet n Wild, the longer handle give me a better control. The fine texture of the
bristle
makes it quite handy for
tight line
the lower
lash line
. Pretty good one for the gel liners.
5.
Jane

Iredale
Flat eyeliner brush (It has a brow
sponge
at the other end that I don't use.) I have a lip brush from this brand and since the quality isn't shabby, I decided to get another brush just for the heck of it.
First, the head brush bend quite easily (thus won't poke eyes) and the contact area is big enough to save you sometime on
precision
tight
lining. But the tight line tend to come out messy since the tip bends.
6.Freebie brush with no name (or it was call something like Professional expression) pretty much an ugly version of the Posh angled brow brush.
Finished with the cheaper ones, here come the
Stila
!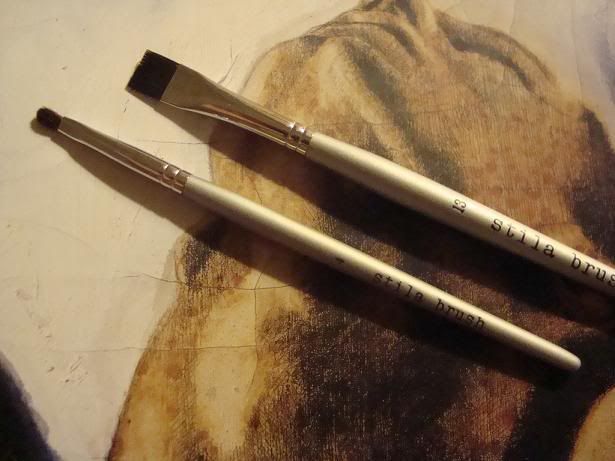 #4S
Precision
eyeliner brush
I wanted this mainly because of the good rating this has on Makeup Alley, but I never figured out how in the world is this supposed to be
precise
(The line created with power shadow always comes out too thick) ...Until I found it's soul mate:
Stila
Smudge Pot.
I wondered how a natural brush (this is pony) will work well with gel eyeliner, but this one does: It picks up a generous amount of gel and glide on the lid and leave nothing but a inky sleek line behind. Well, before I had a smudge pot, I merely used it to highlight the inner
corner
of my eyes since the pony hair is so soft.
#13S One step eyeliner brush. Tight-lining is never easier for me with this brush, I literally close my eyes and dab powder eyeshadow on my
lash line
, I get a fuller looking lash right away. You can certainly use it for the water line (I've tried this) but I don't know how
hygienic
that is.
P.S. 4 and 13, interesting numbering for the eyeliner brushes, eh?