Ok, this is the day two of the reviews. For people who are wondering I said the series will be called "Three days of natural beauty" not "three consecutive days" , I got every right to updated as anti-frequently as I like, especially I am super -irritated by an ultra irresponsible eBay seller(I will do an
exposé/venting post later, viewers discretion advised) plus some minor allergic reactions.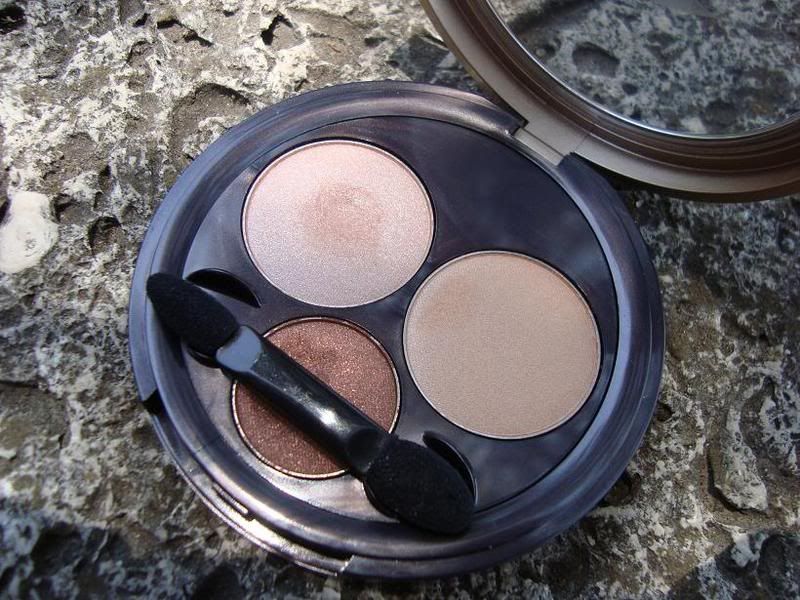 Back to topic. Here is the
Mountain trio
from Sally Hansen natural beauty line. (The compact looks very pretty with a matte golden bronze rim, but too bad I got my finger print on it...so no front look.)
I picked it up out of curiosity at the clearance section of a drugstore (The branch I went it's a smaller that it doesn't even carry the natural beauty line at all...I wonder how this, a relatively new line, can be found there...) for around 4 dollars. Unlike most other drugstore palette I got in the past (big price slashing, hey) , I've played with it quite a few time and I shall say that it's not shabby at all!
The three color of the shadow are (top left) shimmery nude pink highlight, (top right) yellow base, and shimmery chocolate brown. The color combo is pretty safe to say the least: If you just use the brown shade under or at the crease and use the highlight on the other areas, it just can't go wrong. Most of the time I don't like the feel of having makeup on, so I skipped the base (let alone buying eye shadow base, like urban decay primer potion, on its own) and just used the two other shades. As a result of that it smudge about an hour after application, but an interesting thing is that after it's smudged, it actually looked better.
What the shadow is different from the rest of drugstore garbage I've purchased is its creamy texture, the powder feels moist that it's easy to pick up with the sponge tip applicator and it doesn't have powder flying all over the place (It annoys me sometime) . The color glide on to the eyelids quite easily and the color is very rich flattering without being over the top, which I suppose, is the whole point of "Natural Beauty".
For 4 dollars a piece, there is nothing to complain about this palette, even when it's at the full price, $7.99, it's still a good basic brown trio to get.
PS. Check back later for the review on the lipsticks, they are my favorite in this line!