From the dirt cheap line Wet n Wild.
As I mentioned a week ago in that working blusher brush post, this line impressed me quite a bit for the past two months. In my opinion the quality of the Wet n Wild cosmetics is definitely a lot better than that of other drugstore line like Covergirl and Maybeline, the price tag is more pleasing to the eyes as well that the most expensive items you are going to bump into would be 5 dollars, while most of the goodies are under 3 bucks.
The liquid eyeliners are some of my favorites (Actually I like everything I got: The nail color, lip gloss and a blusher, will talk about them later.) Most eyeliner cakes on my lids (or doesn't go on at all) but the Wet n Wild liners are a little bit runny so that it's easy to control, but the colors are vibrant and intense enough to make a statement, or just make your eyes pop.
From left to right: Turquoise (looks teal/green to me) , Blue (I would call it turquoise), prune (eggplant), brown( shimmery caramel) , and dark brown(the dark paint) .
The teal shade is probably my favorite, very vibrant and rich with tiny shimmer. The purple one is very pretty as well. The most natural looking for me is the one in light brown, while the one in darker brown, works more like a typical thick-in-texture liquid liner,that it tends to cake a bit.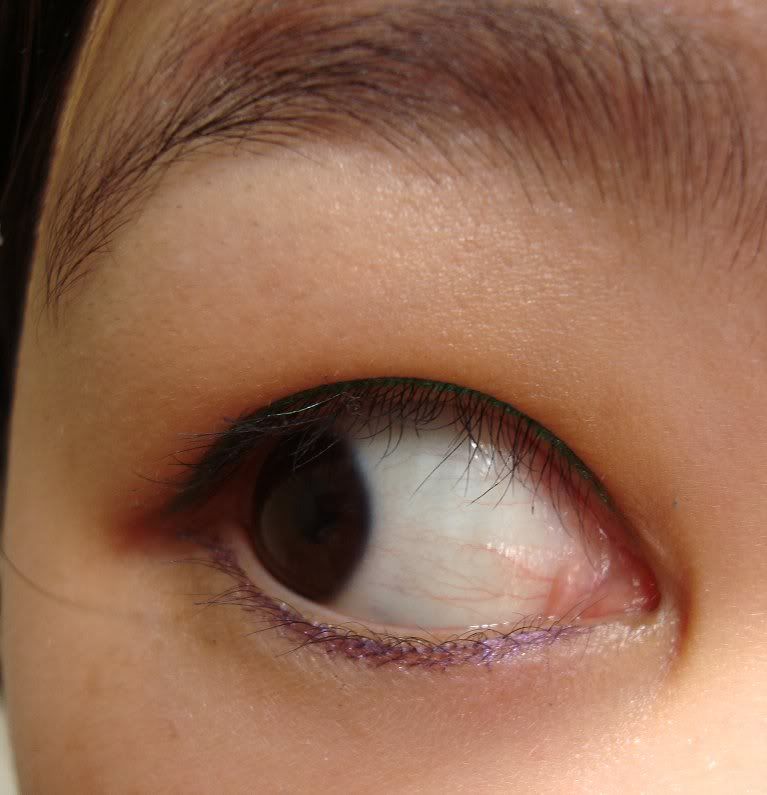 Little eye swatch here with my two favorite shades. The picture is a bit psycho I know...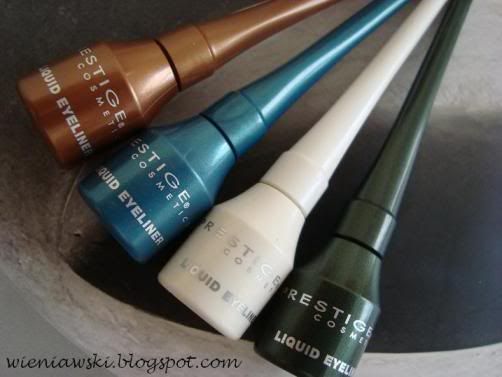 Prestige liquid eyeliner in Legend, Big Teal, Pop Star (It goes on like a white-out, beware!) and Envy.
Another Makeup Alley star, the colors are quirkier and the formula is creamier, it's still easy to work with and since what's shown on the tube is what you will be getting, I haven't bother with a swatch.