Beside brushes and beauty tools, CVS brand Essence of Beauty also has a range of shower, bath and body products (with scents that are quite similar to those from Bath & Body Works) and while they are phasing out some older scents, I picked up this "exotic"
Tropical Papaya Eau de Toilette
for $2.5.
First, there is nothing tropical (well, I grew up in a town that's a bit south of the Tropic of Cancer) or papaya about it (I was once in a month-long papaya-rich diet, because my cousin, who is as flat chested at I am, told me that the fruit is great for stimulating boobs-growth... In the end, I didn't even get a tablespoon of enhancement). To me, the spray smells more like the artificial food flavoring for yellow-colored jello, who would want to smell like that?
Actually...who wouldn't want to smell like mango flavored jelly? It's so much friendlier to the nose than those musky, woody fruit-y floral overload and it doesn't turn yucky after some perspiration. Anyway, the fragrance lasts on me, for as long as an actual mango jelly does (it doesn't)...
If you are just looking for some instant spritz of refreshment - These Essence of Beauty EdT wouldn't hurt (especially the ones with mini-refillable bottle to carry around).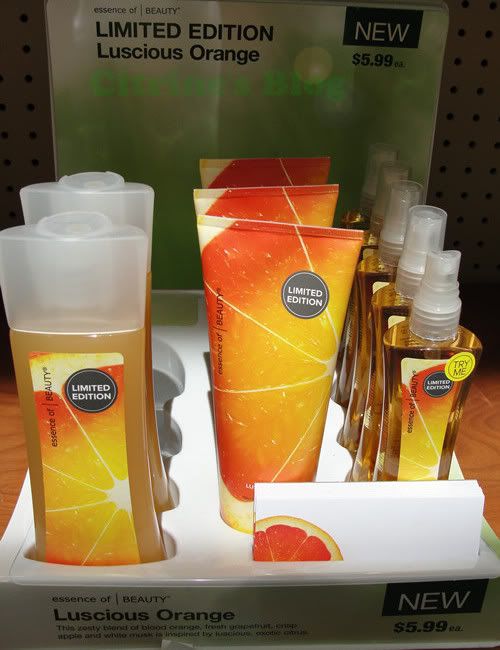 Limited edition Luscious Orange - I tested the body splash, it just smells like orange soda (a good thing) and last like the bubbles in the soda (not a good thing).