Borghese, I believe is a salon-type brand when it comes to nail lacquer, they are in the same price range as OPI and China Glaze when I see them in the drug store. All of their color look quite rice and delicate and their bottle is kind of cute as well.
Pomino Plum was a love-at-first-sight for me. It came out last fall as a limited edition shade, it is a red-based purple with tiny (so you can't really see it unless you are up close) red and blue shimmer, really pretty on that beautiful brunette model.
They have a wider brush so that it's easy to apply, but I found that the texture plays an important rule for application too, since some of the Wet n Wild polish are so easy to when I paint them on (because they are seems very runny yet very pigmented) when they just have the plain old brush.
(The wider brush didn't make it that much easier, I still managed to royally screw up my right hand...I was quite cautious with my left hand, so two coats only...and no top coat btw)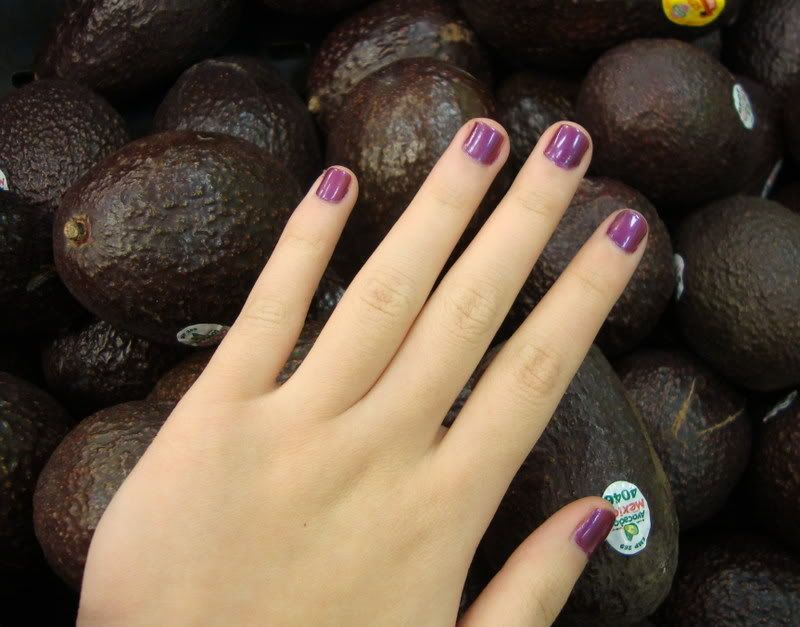 This is what the blogger do while in grocery shop, taking nail pictures with avocados...
Anyway, I love the fact that this dark color doesn't shrink my nail (blue based purple and black do, btw)